Create Sales Events
To create and schedule a new sales event for your Etsy shop click the + New Sales Event link on the Sales Event page.

Enter the specifics for your sale and click the Schedule Sales Event button.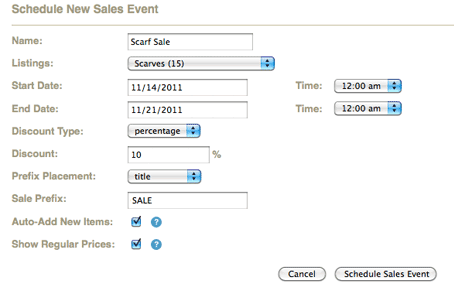 You can choose to run a sale for all listings in your shop or just a specific section.
You can also write the "on sale phrase" that you want prepended to either the title or description of every item on sale.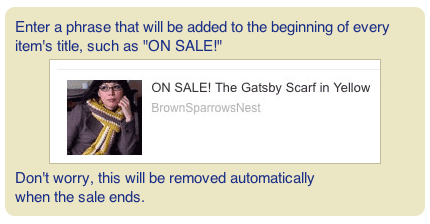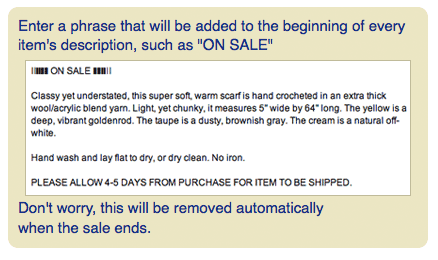 Auto-Add New Items
If you select the Auto-Add option, items you add to the sale section of your shop while the sale is running will be automatically discovered and added with the sale prefix and discount applied.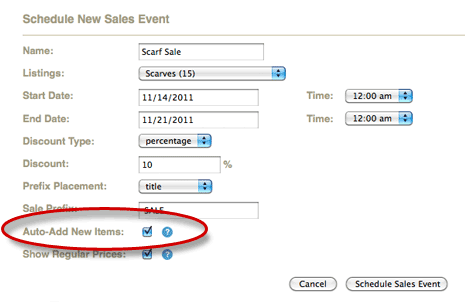 This allows you to add new items to your shop while the sale is running and Etsy On Sale will take care of discounting them and changing them back at the end of the sale.
Auto-add searches your shop for new items 4 times a day. If you want to have new items found immediately you can use the refresh sale button.
Show Regular Prices
When scheduling a sales event you can choose to Show Regular Prices.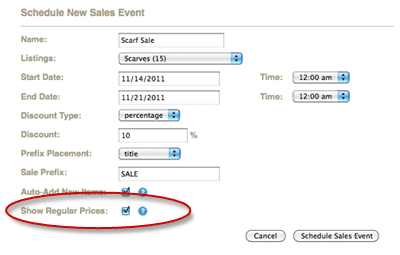 If you select this option, the original price for each item will be displayed crossed out on the Etsy listing page like the example below. This gives customers an easy way to see the size of discount you are offering.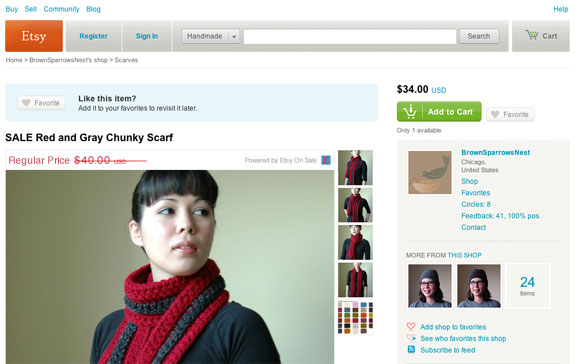 The powered by Etsy On Sale logo is also a symbol of trust, letting customers know you are running a real, verified sale.

How it works
Etsy On Sale modifies the first image of each item in the sale, adding a regular price banner at the top.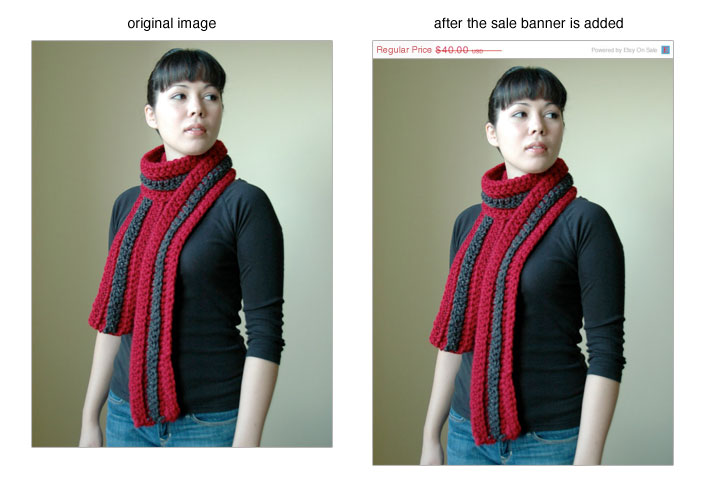 When the sale is complete, the original image is restored without the regular price banner.
Image Thumbnails
Etsy recommends that your photos be a minimum of 570 pixels. If you have images less than 570px wide and 520px tall the sale banner will be visible on the thumbnail version. With photos that are larger, the sale banner is not shown in the thumbnail version. For best results when using the show regular prices feature we recommend that all photos be 570px wide by 520px tall or larger.